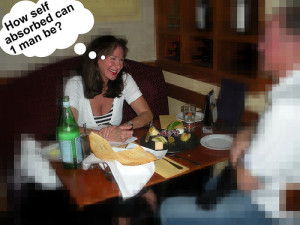 I have a male/acquaintance/friend who is in his 50's and very ill. He has spent his life as a playboy being obsessed with how a woman looks and sex. He's never married, laughed at it and put it down. He is  now alone and lonely. Parents are gone and friends off with their lives. He's pathetic. I feel sorry for him, always have. He called me last night whining that he has no one to talk to. He is alone and can barely take care of his own needs. He needs assistance to shower, etc. 
He has only cared about himself and his needs and wants. He doesn't even listen when you talk with him. I have talked about God.. but he laughs at me. He doesn't think there is a God.
Men need women for much more than sex and how she looks. A man who objectifies  women usually turns out like this one … alone. I have seen it happen many times. When they get old or sick, can't rockin' roll and their resources dwindle… they are left alone with nothing. The women that he chose for her looks, only wanted him for what he gave her as in excitement or gifts while he only wanted her for her body and how it temporarily made him feel.
Men if you are fortunate enough to have a woman love you, you might want to cherish her for all her gifts. It's been proven that a man needs a woman more than she needs a man.
Women alone live longer than men alone. Why is this? A woman assists a man in processing his emotions. She cares for and nurtures his needs. When he provides, commits and protects this creates a great balance. But when he doesn't… it falls apart… the balance never occurs.
When a man is so needy that he is driven to suck off many women with no commitment, he is really cutting himself off from what he really needs, but this kind of man is too insecure, can't allow vulnerability or be real within himself, so he distances emotions and feelings for the temporary charge and escape of sex and being in control 
and in the end he loses big time!  
Women can do this for themselves. They process their emotions more easily, so why would any sane woman want to take on the neediness of a man without his full commitment to her and respect of her whole self? Women who share their bodies with a man without the wholeness of commitment are fools. They are fools looking to temporarily escape who they are in reality and wholeness and it is a big fail in the end for both. 
The

 
real deal
 

with the 'never married man', forty and up, is they
can't commit, are afraid of failure and real intimacy
. So, they
objectify women and diminish
marriage and commitment
 

to make themselves feel better about their
 

inability
 

to commit, to choose, and to make long term relationship decisions.
"Never love anyone who treats you like you're ordinary."

Oscar Wilde