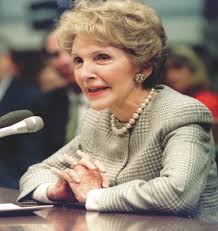 The death of our beloved Nancy Reagan brings us back to the love story between her and our beloved President Ronald Reagan as they clearly displayed the love, respect, balance, and support, the blessed gift from God possible on earth between a man and woman.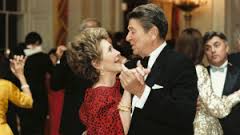 Her comment that her life didn't really begin until she met Ronald Reagan… is not understood by some… as in the woman libbers who think they don't need a man or that they are weak to think that they might, the feminists that have no clue concerning the balance achieved through the love between a man and a woman. There is great strength and wisdom in Mrs. Reagan's statement regarding her profound love and soul connection that  she knew she had when she met the love of her life. It's doesn't negate that she was a woman of talent and accomplishments in her own right as 'feminists' seem to think. What it means is that their union enhanced both of them on many levels and by their union, both destinies were recognized and achieved bigger, more and better than had they been apart.
When any of us are given this rare and blessed  gift from God to meet and join with a soul mate, our life does begin anew and again with a future opening up changing our lives forever, giving us the opportunity to become and grow  more than ever could have imagined possible.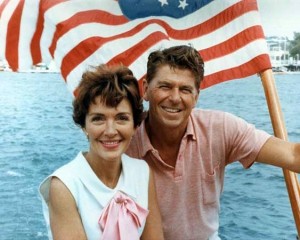 It is exciting and more meaningful to grow through life with a partner, a true soul mate, who witnesses and offers support in life, assisting, therefore, each to become more than ever thought they could be alone.
And it takes a real woman or man to submit to this kind of deep profound love, which requires being seen clearly by another, exposing vulnerabilities and wounds, and in that closeness is the ability to experience genuine love, the kind of love that is the closet thing to God's love for us on earth. It is not an undertaking for the feint or weak of heart… it's only for the brave and sincere of heart and spirit.
Though love is the closest that we can be to God on earth.
" Each one of you also must love his wife as he loves himself, and the wife must respect her husband." Ephesians 5:33
Pure, committed, God based love was clearly displayed by Nancy and Ronald Reagan.
"When over the years someone has seen you at your worst, and knows you with all your strengths and flaws, yet commits him – or herself to you wholly, it is a consummate experience. To be loved but not known is comforting but superficial. To be known and not loved is our greatest fear. But to be fully known and truly loved is a lot like being loved by God. It is what we need more than anything. It liberates us from pretense, humbles us out of our self-righteousness, and fortifies us for any difficulty life can throw at us." – Tim Keller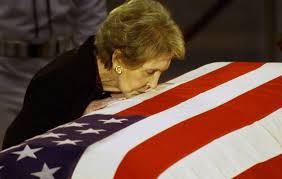 God bless and keep you dear Nancy… as you reunite with your beloved Ronnie.