My Last Halloween
 I am thirteen
I have to take all of my younger sisters, 'trick or treating'.   What a drag! Well, I guess I can get all dressed up like a 'beatnik' or something. Then maybe, it won't be all that boring.  Halloween is on a school night and mother will not let me go to my friend's house. I have to stay at home.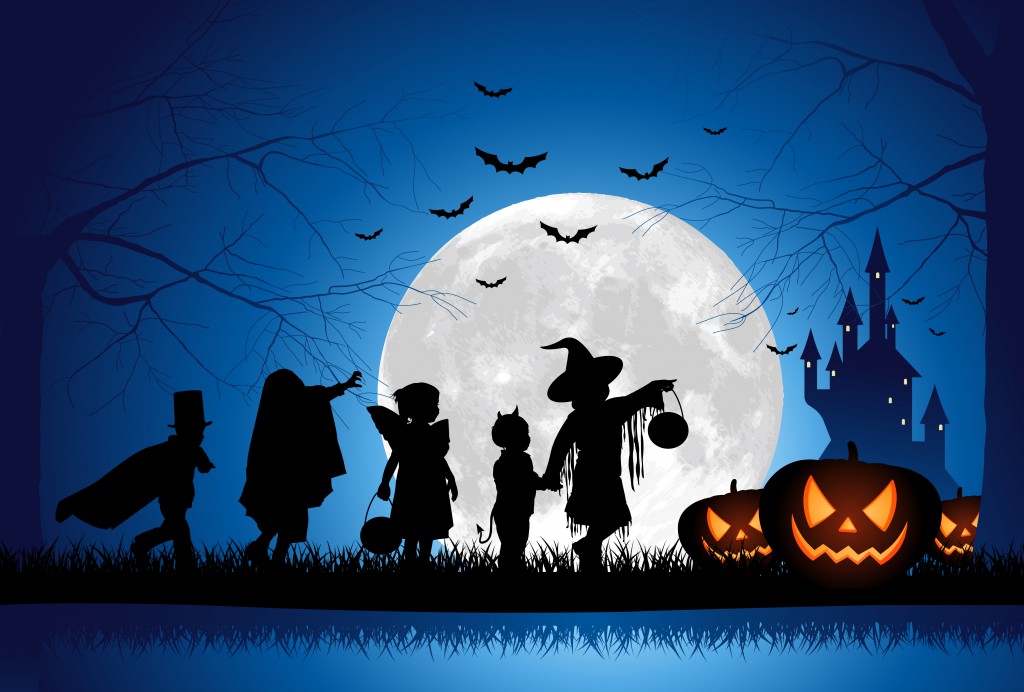 I love Halloween! I like to run around in the dark with my friends. I especially like it when it's cold and windy. When the weather is like that, Halloween is really haunting. It's fun to scare yourself by pretending a monster is after you.
This might be my last Halloween because I'm getting older. I'm getting too old to 'trick or treat' with my younger sisters. I wish I didn't have to take them around the neighborhood house to house, but I'll make the most of it. I'll dress up and get candy too. I feel tall and awkward. I grew fast or something because all of a sudden I'm taller than everyone. I'll just stand in the back of the group. That way no one will notice me.
Everyone is ready and it's beginning to get dark. So off we go! The wind is blowing and it's cold outside. It's a perfect Halloween! The wind is howling in the trees. The leaves on the trees are making rustling sounds.   It's all so spooky and fun, I love it  We go from house to house, up and down the streets. Our neighborhood has lots of hills which makes it even more fun and scary.
After being out for about an hour and a half walking up and down the hills, we're heading back to our house. It's getting late and everyone is getting tired. We have three more houses to go before we're back at our house. The house that we're going to next is real pretty. It sits on the other corner opposite from ours and has a bridge to walk across to get to it. It's fun to walk over the bridge. The lady who lives there appears nice. I've seen her driving her car in the neighborhood. She's pretty and friendly. It'll be fun going to her house. I think she has some sons around my age or maybe, older.
We run across the bridge and go up to the front door. We ring the door bell and yell, "Trick or Treat!" The lady comes to the door and looks us all over. She comments about all the little children's costumes and says how cute or scary they look. Then she looks up at me and turns up her nose. She makes a sarcastic comment about the fact that I'm too old to be 'trick or treating'. She comments, "You're a bit tall aren't you? Don't you think you're too old to be 'trick or treating'?   You're taking candy away from the cute little ones. It's horrible how you older children ruin the holiday for the children." Hearing this coming out of her mouth is my worst fear. I feel so uncomfortable, I could die. I am tall for my age, five foot three and very thin. What this woman said to me and the way she said it, cut right through me.   I felt embarrassed, awkward and wanted to crawl into a hole. I told her that I was taking my little sisters out, but she shot me a dirty look. I felt like I had committed a crime by the way this woman looked at and spoke to me.   Then she said, "If you are only taking your sisters out, why did you take the candy and why do you have a candy sack?"
I wanted out and away from her fast. I didn't respond to her and told everyone to hurry up that we are going home. I wouldn't
let my sisters go to more houses after that experience. When we got into our house, all my younger sisters got their pajamas on and then poured all their candy out on the floor in their bedrooms.
I went downstairs to my room and took a shower.   I felt ugly and dirty after the way that lady had spoken to me. What she said and the way that she said it, hurt my feelings into my heart. I already felt awkward and weird about my appearance and all the changes of the new school and the new neighborhood. To hear those critical words come out of her mouth, when I was doing as my parents asked me to do, hurt me into the core of my being.  I had seen her around the neighborhood and thought she was pretty and that she would be a nice person.  I got into my bed that Halloween night and cried.   I thought something must be really bad wrong with me for a lady in our neighborhood to say those things to me.
This woman became a friend of my mother's and they played bridge together in a club. After that Halloween night, I have seen her and been around her all of my life. I do not really have an opinion whether she is 'nice' or not anymore, but I'll always remember her stinging words. The words she said to a thirteen-year-old child taking her sisters 'trick or treating'. I wondered what would make her say such comments to a child. Years later, at a society luncheon event, I decided to share with her what I remembered about that Halloween and how it had affected me.   She was shocked. She said she did not remember saying those things and she always thought all of us girls were darling. She even had hopes that her son and I would date because she thought me such a doll. So I had spent years agonizing over something this women had said when she didn't even recall saying it.
This incident makes me aware of how easy it is to affect a child or anyone by our 'innocent' comments. This woman meant no harm. She was just voicing her opinion, but she was voicing her opinion to a sensitive, insecure young girl. I took her words to heart because I was at a sensitive time in my life and was insecure in myself. If she had said that when I was feeling secure, I might have just thought her rude and blown it off. What was the purpose of her cruel and berating remarks?   Had she had a difficult day and was just taking her frustration out on a kid or was she a bitter woman who really didn't like children, unless they were little and adorable? Had she had some liquor that night while answering the door for 'trick or treaters', so her judgment was flawed? Who knows?   It really does not matter.
All I know is that at the time, her remarks cut deeply into me. Are we ever truly aware of what we say and how we say it affects others? But on the flip side, sometimes harsh remarks can stimulate us to look at self and to change. Only in this instance, there was nothing I could change. I was tall for my age and I was doing as my parents asked me to do and I got nailed for it by a neighbor.
Awareness is why did I let this affect me so deeply?   Granted I was a child and did not realize at the time that this woman was being a grouch. I automatically took it into myself and to heart that something must be wrong with me. I had such low self-esteem at the time that I automatically took her critical remarks as if I was doing something 'wrong'. Actually, I was doing something I did not really want to be doing, to help my mother and my younger sisters.
The reality is when someone says ugly and hateful things they are usually talking about how they feel at the time. It is more a reflection of them and not you. If a person truly loves themselves, they usually don't say hurtful cruel things to others, especially to a young child. But also awareness is that sometimes, you can be overly sensitive and take something to heart that the person saying it doesn't even recall. This lady was placing her opinion on me without knowing anything about what was really going on. How grumpy does a person need to be to verbally attack a child, 'trick or treating'?
When I look back on this event, it seems so insignificant, but I have remembered the way I felt at the time all of my life. This lady had no awareness of how much she affected the young girl she spoke to on that Halloween so long ago. She never realized it or even thought about it. We are constantly, day by day, bringing up emotions and feelings in one another as we react and interact with each other,  So the awareness is that you never know how much you affect people by what you may say or do. Also why do we let what people say to us affect us so much, at certain times in our life? Why do we let their critical remarks injure our self-esteem? That is our issue to look at, not theirs. When we are secure in ourselves, we will not feel the need to talk negatively to others. And when we are secure in ourselves, we will not take negative, critical things other people say into ourselves and allow them to affect us.  The goal is to respect ourselves and others.
I can forgive this woman. She had no awareness of how much she hurt me. It was my own insecurity which allowed this incident to affect me so deeply. Many times, you may not see things as they are; you see things as you are.
Be aware that everything you say and do affects you or those around you either for good or for ill. And sometimes what is meant for ill; can be changed to good.
"Everything I do and say with anyone makes a difference." Gita Bellin
Our memories and their imprints teach, guide or limit depending on how we process them…