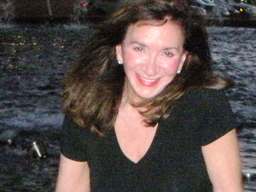 When I was eleven…
 I want to have a new grown up hairstyle.  I've had a ponytail for such a long time.  I've been looking through magazines, studying the pictures and see most of the girls have shorter hair.
          I want to have a cute, short, stylish hairstyle, too.  All the girls in the magazines have short, straight hair.  The length of their hair is just below their chin.  My hair is below my shoulders, thick and wavy and it gets in my way.  So I wear it in a ponytail most all the time.  I feel like a baby.
          Many of the girls at school are getting their hair cut short.  So I ask my mom if I can get my hair cut short, too.  She asks, "Are you certain you want to get your ponytail cut off?"  "Yes, I am sure!" I answer.  She makes an appointment with the stylist who does her hair. The appointment is on Friday afternoon just before a birthday party at a friend's house.  My hair is going to be new, a surprise for the party.
          I get my hair cut just like in the picture that I show the hair dresser.  It looks real cute.  I love it!  The hair dresser blows my hair dry with a blow dryer.  My hair is straight, full, and beautiful.  I look real old – like a teenager!  I barely recognize myself. I'm  excited to go to the party and to show off my new hair style.  The party is fun and everyone loves my hair.  I feel so grown-up and sophisticated.
The next day when I wake up, my hair looks kind of wild. I'm use to sleeping with my hair in a ponytail.  In fact, my hair was always in a ponytail.  I go outside to play.  I'm doing my usual Saturday stuff – running all over out-of-doors playing with my friend, Jane. We go inside her house and I go into the bathroom.  I take a look at my hair to admire my new, grown up, sophisticated self. 
Oh my goodness!  My hair is standing out all over the place.  It's frizzy and awful. I look terrible!  I look like a wild woman!  It's real humid outside and I have the kind of hair that gets frizzy in rainy weather.  What am I going to do?  Jane comes in and we try to do something with my hair but it's too short to put it in a ponytail.  Jane still has her ponytail.  I wished I still had mine.  I don't like this new hair cut.  It's too much trouble to take care of.  I don't know how to fix it right.  Jane says that she liked my ponytail better, too.
          Then, Jane's older sister and mother come home.  When they see me, they ask, "What did you do to your hair?" I reply, "I got it cut." Trying to hold my chin up, I say, "It's the newest style."  They say they liked my ponytail better.
          Quickly, I tell Jane that I have to go home.  I run across the street barely holding back the tears.  I run into the house and run into my bathroom to try to do something with this awful hair.  I'm crying and  call out for my mother.  She comes in to try and help me, but no one can do anything with this hair.  I'm stuck with this awful frizzy hair until it grows out and I can put it into a ponytail again.  Mother says you will get use to fixing your new hair style.  It will just take practice.  Nothing she says can help.
          Something comes over me. I'm overwhelmed by the realization of what I have done.  I was trying to be so grown up and sophisticated.  Instead, I look like a wild woman.  I'm crying real hard.  I go out to the family room where my mother is sitting on the sofa.  I'm crying so hard. I don't remember ever crying this hard since I was a baby. 
          I'm crying and saying "Mother, I'm so ugly now.  I will never be pretty again. I wrecked myself!"  I'm crying uncontrollably.  Mother takes me in her lap.  I'm crying so hard, the hardest, I ever remember crying.  I'm saying over and over how ugly that I think I am because of my haircut.  My mother is holding me and saying that it will grow, not to worry and to stop crying. That it will be alright.  I'm sitting on my mother's lap as if I am a baby. Straddling her lap and leaning into her body.  It feels so good to be sitting on my mother's lap and having her hold me close.  She smells so good, a fresh clean smell like flowers, only not. I relax and let my body go limp as she holds me.  I sense that this will be the last time my mother holds me like this because I'm too old for my mother to hold me like a baby.
          Then I snap out of it and realize as I come back to my senses. I'm not a baby, so why am I sitting in my mother's lap crying?  I push away but my mother pulls me close to her again, as she says, "Don't pull away. I haven't held you like this in so long. It feels so good to hold you.  I don't get to hold you anymore, since you have become such a big girl."  I stay there a minute more feeling the closeness and comfort of my mother as her smell permeates my being. Then I pull back and away and get up because I feel embarrassed.  Embarrassed by the closeness, by the feelings and embarrassed by thinking, I'm too old to be sitting in my mother's lap.
After crying so hard though, I feel a lot better. My hair will grow and until it does I can figure out something to do with it.  I will think long and hard before I take another picture into a beauty shop again and say give me this hairstyle. Actually, I don't think I have ever done so again.
I recall how good it felt to hold my mother and to be in her arms sitting in her lap.  It was the last time that she ever did hold me like that in full childhood abandonment of joining as one with my mother.  I remember that feeling always. The imprint is on my heart.  I wonder if my mother remembers.
My awareness is I wonder why as we get older, it is sometimes so difficult to be close to our parents?  I wonder why as a child, I believed I was a 'baby' if I sought comfort from my mother? Where did this belief in me come from? Where does this belief come from in our society? But as we grow up, it's emotionally healthy to separate from our mothers to become autonomous with the ability to self-comfort.  Those who don't separate from their mothers lose who they are and can stay as weak, needy children for their whole lives.
Many, many years later, one evening, my mother had a stroke and was rushed to the hospital. I was an adult, living in another state. Daddy called and told me that her stroke was so bad that it was futile to operate. They were letting God take care of her. I made airline arrangements to go see my mother the next day.
Early in the morning while I was sleeping, around three or so, I had a dream-like memory of my mother holding me like on that day when I was eleven distraught about my haircut and thinking I was ruined and ugly. I felt her arms around me and the warmth and love coming from her was magnificent, much stronger than it had even been on that day.  Tears ran down my face as I felt my mother's love and felt her so very close to me.
The next morning early, Daddy called crying  to tell me mother had died about three that morning.
In the months thereafter, oftentimes, when I would get up in the middle of the night, say to use the restroom, or if I would just awaken, I would smell the fresh fragrance of my mother.  This occurrence stayed with me for several years, in the most unexpected times, but usually at night, late when I was quiet and to myself. And in places, where there were no smells. I wear no perfumes and can't stand artificial odors so that fragrance came from nowhere in the places where I lived.
  In times of stress,  loneliness or unhappiness, and at times before I go to sleep, I  pull to me the feelings and memory of being in my mother's lap and her holding me close to her heart.
A story from my book. Look for it to be out this July.