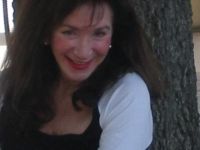 talk to a woman…
Okay… what would you think and do if a man solicited your attention repeatedly to offer his services in a business interaction. And finally, you respond because you 'think' that you 'might' have an interest in his service. It's what he is offering you, you did not contact him. He sends you his resume and some samples of his work which appear fine.  
The first conversation with him is informative and interesting. But in the next phone conversation, he makes continual references to your body as being voluptuous. It could 'sort of' be excused, in that, you are talking about a character in a book. But he says your body is 'voluptuous' about six times and he asks personal questions. (red flags) And then in the next email, he writes that for his 'pay', he asks only that you marry him and never leave him… he also writes that you are beautiful and have a certain glow about you…

He also writes in an email that he showed your photo to a kid that lives above him and this kid said that you are 'hot'.
You write back that this is sweet, but you are only interested in the  business project…besides, why would he show your photo to
anyone?
His reply. "Dear, don't nag."
Your reply. "Excuse me?"
His reply. "Excuse you? Why, did you burp?"
Having experienced quite enough, you write back that you are not interested in any association with him and that you don't appreciate him continually referring to your body.

Indignant, defensive and patronizingly, he replies that he was only being friendly. That you are being arrogant and you need to get over yourself because you are not all that attractive… and that 'you' need to apologize to 'him'…because he was only sharing a 'story' about the kid, and that you are being too sensitive. And that you shouldn't kick a 'gift horse' in the mouth.
HA!… soooo…Whew!  Yes… this happened to me and this from a man who has commented repeatedly for months that he enjoys my writing, agrees with me and my site. So, he 'should' know what I am about, or he 'thought' he did, or he doesn't know how to conduct business, or he is a stupid oaf, because, if this had occurred in an actual place of business, his words would be considered sexual harassment.
So, over the Internet in a 'business' interaction this man disrespects me, comes onto me and when I call him out on it, instead of apologizing… he 'tries' to point the finger at me, put me down and patronize me. And he was the one continually talking about my appearance not me…

Also, when he first talked about my body, of course, I was offended, but I let it slide to gather more info, since I am becoming more aware everyday that 'many' men are 'completely ignorant' about how to talk and interact with a woman. Some seem to think that saying things like this man said to me are 'compliments'. But what it does is to make a woman feel objectified and this is insulting on every level. Was that his intention? To pull some kind of 'male dominance.'
Do men these days, because of movies and the way, in some cases, we see women being portrayed and disrespected and the way many women disrespect themselves, 'think' that they can interact in this manner?
I have never seen anything like what I am seeing today…sure there have always been the jerks and always will be. But the lack of manners, juvenile behavior, low respect level, and ignorance of 'some' men these days, goes beyond the pale… and it blows me away in shame for them. Are they so insecure and needy that they will take any and every opportunity to objectify, try to stick it to and take a woman down to their lowly level?
What do you think? Do you agree or not? And what would you have thought and what would you have done?
Look to the left and click to follow…