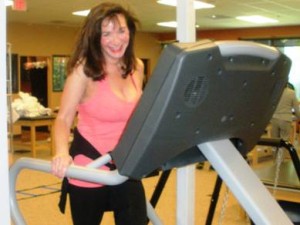 who you are internally. It's genetics up to a certain point, then after that, it's attitude, lifestyle, and mind set.

Haven't you met people who are young, but seem, act and look, like they are many years older than they are? There is no energy in their smile, their gait or their expression. Their choice of clothing is inappropriate, old and dowdy.
Then there are others who are older, but are full of life, energy and appear much younger than their actual years. Their body is fit and they dress stylishly and youthfully.
We have so much available to us…working out, nutrition, vitamin and mineral supplements, plastic surgery, botox, collagen, all kinds of fillers to keep aging at bay and to enhance appearance.
But I have seen people who have had much in enhancement and still have little energy or life. So, beauty enhancements only do their duty, if the internal life is in equal parts and up to the challenge.
It's the mind set, the heart, the life stream, the connection to the source, the purity, the inspiration of the spirit, values, standards and the goodness of an individual that shines through the eyes, reflects in the glow of their skin and is expressed in their smile. And no doctor or beauty treatment can give anyone this as it comes from the life force of their soul.
A person who overstuffs their body with junk food and chemicals will have a sluggish, bloated, puffed up body. A person who stuffs their mind and soul with negativity and wrong doing, be it in their thoughts, their actions and behaviors, as in lost of respect for self, regarding sex, or other addictions, along with the people that they surround themselves with, will have this reflected in their outward appearance. They may be able to 'get away' with it in their youth, but as they grow in years, it is revealed and shows. You know the saying, "You eventually get the face that you deserve".
The choices that we make concerning what we put into our body and our mind, as well as what we wear, beauty treatments and everything else, reflect who we are in our appearance. When you care about your internal well-being, you will care about your external appearance. You will nourish your body and mind with good things and will present yourself externally in the best light and do things to maintain your appearance out of the pride in your being. Pride and caring for yourself is healthy. Who you are is a gift from God… cherish and care for yourself well.
"Beauty is as beauty does."… has many layers to its meaning…
What do you do to ensure your youthful energy will stay as long as possible? And do you appear on the outside as you feel on the inside?