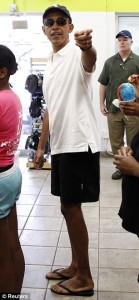 …degenerates and perverts setting the standards, the values, and morality etc. Take a hard look at what is going on in America today because it is appalling.
Hearing what comes out of Obama, Reid, Pelosi, Michelle Obama, both Clintons, or Biden's, etc. mouth must be like what being in an insane asylum hearing inmates babble would be. It's all delusional, lies, fantasy, word salad-like, out of reality, distorted, twisted drivel.
It's like something, or someone reached in and snatched their brains and inserted lame, agenda-filled-talking points, taking away their ability to speak the truth, reason, speak clearly, or off the cuff in any meaninful way, because in off the cuff and their agenda is revealed… with their inability to keep on script as their real agenda bleeds through their lies. So they must stay on teleprompter and talking points as they smile through their corruption and lies. Genuine cognitive abilities and compassion from the heart are absent as it's all lies for agenda.
The same can be seen in most in the media, think: Juan Williams, Bob Beckle, Barbara Walters, etc. And in the public eye, especially many in the entertainment arena, and I do mean 'arena'.  It's like we are watching a circus of fools performing in an arena of distortion and perversion led by degenerates.
Sidebar – Ellen 'Degeneres'… ummm.. interesting word play, isn't it? The first woman who revealed herself as a lesbian on TV and so many seem to think she is so 'nice' and 'humourous' She is married ( I think), or living with another 'woman'. Who would have thought that we would ever be considering those of the same sex marrying? And if you don't care for the idea, then you are called a hater, or worse. You see it seems we must accept even that which we don't approve of ,or want to accept. That which we once thought abhorrent and unnatural.  Ellen is a woman who likes to dress and cut her hair like a man. She wears little men suits and she tells jokes to entertain… well, I think you get the picture. She is an entertainer, not anything to model after. And Michelle Obama is on her show often. Speaks volumes, huh? It's entertainment and should be taken in that vain and perspective and little more. It's a temporary escape. Why is it that many can't tell the difference any longer?
Were it only a bad movie, it might be funny, if seen and taken as such, but it's not funny because these fools are destroying America… its integrity, its freedoms, its place in the world, its excellence, its leadership, its sanctity, its security, its morality and filling it with chaos, insecurity, deception, distortion, control, lies, weakness, perversion, corruption… everything lowly. They are a leadership of rancid, delusional, lying, corrupt, degenerate  fools trying to lead others into their abyss.
Knowing the truth, seeing the truth then still believing all their lies is the example of ignorance and stupidity on a level that is unimaginable. Have the brains of many in America been flooded with an inability to think and discern to see what is truth, what is lie, what is good and what is evil, what is sound and what is nonsense? Why can so few tell the difference? What is entertainment and what is real life? What is a charade? What is a facade? What is fake and phony? What is acting?
Because who could believe, or buy into what these idiot fools are promoting and selling? No one, but other idiot fools. None of it makes sense because it is all nonsense and it goes against all logic, intelligence, morality and common sense.
Their reasoning is seriously flawed and they are too self-delusional, ignorant, agenda-filled and distorted to realize how insane they sound as they keep talking, twisting, lying, deflecting and destroying, like the bad and unruly kids taking over and destroying a playground, while the good, intelligent, well-bought-up children look on in shock or amused disdain. But it's anything but amusing. These traitors to our constitution and moral way of life are appalling and destructive to everyone in American as rights and freedoms are taken away and government control is implemented. And morality is at a new low.
All the government employed and (tax payer funded) paid and media blockheads do is talk. They build or create nothing. So why are they listened to and believed as knowing anything and certainly not anything better, or worthwhile than you, or I, and those in the private sector who own companies, work, invent, create, etc. They are sucking the resources and energy from the people into their corrupted, bloated, machine of destruction.
These degenerates suck off the people. They manipulate the people. They try to influence the people as to what to buy, how to live and what to believe, while their own lives are full of immorality, lies, facade, cover-ups and fraud.
They are bought and paid for talkers, paid to influence, twist, decieve and con. They are fakes!
So why is anyone with a brain tolerating this, watching, or even listening, other than to be temporarily entertained??? Why can so few see things for what they really are?
Look to the left and click to follow and to subscribe…