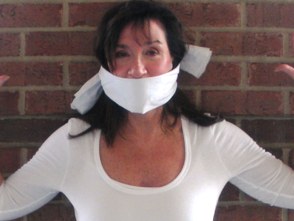 It has arrived! We have lost our freedom of speech. The thought police, speaking police, writing police and expressing police with the you must 'like this and dislike that' police are on it with the media and social media enforcing it. The first amendment is being destroyed along with America's whole Constitution.

I was banned from FB for 12 hours for the article I posted on race. While, it got many many likes and comments from those who agree and from all races, I 'suspect' that some 'defensive and 'threatened' liberals' reported it as offensive .. causing me to be banned.
FB is an arm of the Obama regime just like most the media is. So, why are we on it?But if they chase us off, 'they' have won in their game of intimidation and censorship.

Seems everything 'offends' the agenda of the liberal, progressive, atheists, Muslims, blacks and gays. They are all trying to shut-up the whites, Christians and Jews, heterosexuals, and non-perverts, etc. 'They' are only interested in the rights of the Muslims, the gays, the minorities, the perverts, and the atheists, etc.
And it is going to get worse — soon anyone who mentions the words "husband" or "wife" will be 'accused' of 'hate speech' against gay people.
A euphemism is a generally innocuous word or expression used in place of one that may be found offensive or suggest something unpleasant. Some euphemisms are intended to amuse, while others use bland, inoffensive, and often misleading terms for things the user wishes to dissimulate or downplay. Euphemisms are used for dissimulation, to refer to taboo topics (such as disability, sex, excretion, and death) in a polite way, and to mask profanity. The opposite of euphemism roughly equates to dysphemism.
Euphemisms may be used to avoid words considered rude, while conveying their meaning: "Kiss my you-know-what!" instead of the more vulgar, "Kiss my ass/arse"; the expletive sugar to substitute shit. Some euphemisms are so commonly used as to be standard usage: "pass away" for "die". Over the centuries euphemisms have been introduced for "latrine", and themselves replaced as they came to be considered unacceptable; "toilet", once itself a euphemism, is often euphemized as "bathroom", "restroom", etc. Euphemisms are used to downplay and conceal unpalatable facts, as "collateral damage" for "civilian casualties" in a military context, and "redacted" for "censored".

'Political Correctness' is an euphemism  – something you say to make something appear better and different than what it actually is. 'Political Correctness' is the euphemism for censorship. Political Correctness is making censorship appear better than it is. Political Correctness is going to be the death of America and freedom of speech and all individual expression.

Because nothing is good about censorship… NOTHING!
We have truly entered a hell of censorship along with immorality, perversions and depravity. The seven deadly sins are taking over… hidden in and behind euphemisms.

Don't let evil sneak up and take over because that is what evil wants…to take over every human and take it down to its level.
Evil is trying to make good wrong, individual thought and speech wrong, individual likes and dislikes wrong, (as it hides in the lie of making

everyone 'equal') morality wrong…and to make that which is evil appear good.
We are living 'a' and 'in' an Euphemism.
What's next a firing squad for those who won't, or don't conform? And 'getting rid of those who won't conform and undesirables' will be an euphemism for killing, execution, and murder.
http://www.youtube.com/watch?v=aAYObhfEHBo&feature=youtu.be       


Look to the left and click to follow and to subscribe.