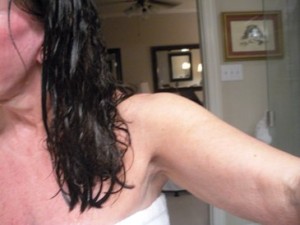 after working out, I shower as I think back…New Year's Eve, it was Vivre Cliquot with Ravioli in garlic butter with walnuts, tomatoes, and black olives…
New Years Day, it was Coors light with a twist of lime and a skinny pizza with the works….
Tonight after working out… it's Claret with the left over Ravioli, but this time in red sauce.
Working out then having a glass of Claret really don't mix, because I feel tipsy.
The movie, WHEN A MAN LOVES A WOMAN, flashes in my mind, as I wash my hair, the part where Meg Ryan's alcoholic character falls through the shower door …  after slapping her precious little daughter for asking her a question after Meg's character had way too much to drink…
Oh my gosh! Is that me? Drinking three days in a row.  But I only had two glasses of champagne on NYE, one beer on NY Day and one glass of wine today, and  I don't have a daughter and I don't slap people… But might I fall through this door?
911!! AA!!… Triple A!!!

Nah!… first I need to condition my hair. Only I did take a photo of myself getting out of the shower… am I blottoed..?
I wonder??? What should I have tomorrow night? A Mojito or Sauvignon Blanc? Tis the season…Cheers!!!
(This was written in fun as I realized how much I had been drinking lately. To me drinking three nights in a row is a lot. I am a light drinker, one or two is my limit and I go weeks even months without having any alcohol. I think it can be enjoyable in moderation. Drink wisely… a bit of it can be good for you. Too much and it can be a disaster for both your internal and external worlds.)
Look to the left and click to follow …