My Father's Cane – Adult – Present Time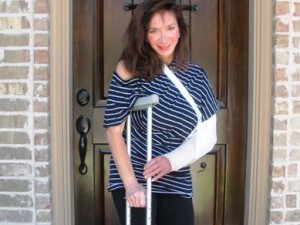 I couldn't have imagined that almost one year exactly after my father's death, I would be using one of his canes.  My dad died in April, the day in that year was Good Friday.
Daddy used canes for years because of an injury when he was in the Navy.  A bomb had hit on the submarine he was on.  When Dad was running away from the explosion, he turned to look back and was hit in his neck and spine. This created a degenerative spinal disease to develop as his life progressed.  He had been an athlete in high school and was recruited to be a pitcher, but he hurt his arm and couldn't pitch any longer.  After a few years of college, he went into the Navy where he acquired this injury to his upper vertebra. He was a large, vibrant man and it wasn't until later in his life that he needed to use a cane to steady his walk. He eventually ended up in a wheelchair. One day I asked, "Dad is it horribly difficult being in a wheelchair when you were once so active?" He replied in a gruff tone, "No it's okay. I manage." I rarely saw him frustrated concerning his disability. Although in private, I am sure that he had his moments.  Dad rarely if ever let me see him down, depressed or hopeless. I guess that is why he wouldn't tolerate it in me. He wanted me to have a strong core because he knew in life that internal strength is what makes or breaks you.
While in the Navy, Dad flew planes but he was also on a submarine.  Going from the different altitudes also wreaked havoc on him. He told me stories about being in the Navy infirmary and how lonely he felt. He said that he had never felt so alone in his life and that it was the worst feeling in the world. Healing can be an alone process… When he got out of the Navy, he asked for Mom's hand in marriage repeatedly – on the third attempt, her father said yes.
Through the years, I would buy him antique or usual canes for gifts. He had quite a collection. After he died, I got some of his canes. I placed the black one with the silver handle to lean in a corner of my powder room. There, I could see it easily as I walked through the hallway past the powder room door. It gave me comfort to see it in there. It gave me the feeling that Dad was watching over me.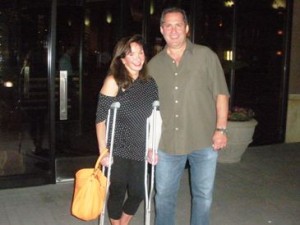 On April twenty-fifth, one year after Dad died, I had an accident. I slipped and fell on an unmarked wet concrete floor in a local wine bar. I broke my left elbow and sustained three hairline fractures in my tailbone. 'Unmarked, wet floor, wine bar wounded warrior' – not really funny, but…' And no, I was not tipsy. I had one sip of champagne with a friend who I had picked up from the airport and we were celebrating. It was near closing time and the employees in the wine bar had prematurely begun to clean up and mop. Yes. I sued and yes, they settled with me for their negligence.
I was dealing with so much at time. I was still healing from the death of my Dad. My sisters were continually suing me concerning Dad's Will. Then I fell and had another lawsuit to contend with. I still don't know how I dealt with it all. But I knew my Dad was with me. I pulled Dad, Mother and God close to me every night before sleeping and often throughout the day.
During the healing, I was on crutches for a bit. How horrible are those things? I needed to 'baby' my left hip completely for a while and I also had my arm in a sling, I had to use one crutch under my right arm to take pressure off my left side. Using the crutches threw my walking gait off. After starting rehab to strengthen my left leg, I realized I was really having difficulty walking normally. This was frustrating beyond belief. Being a former ballet dancer and used to being fit as a fiddle, I was scared because I seemed to have little control over movement in my left leg to walk naturally.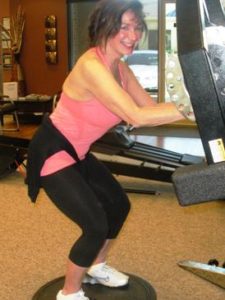 The first day after I came home from rehab, I 'crutched' by the powder room and noticed Dad's cane. It was as if it was calling to me. I decided in that instant to toss the crutches and to use my Father's cane.  Even though he was 6'2″ and I am 5'3″, the cane worked perfectly for me. I began practicing immediately – by walking up and down the entry hallway using my dad's cane. It was exactly what I needed. It offered support while I strengthen my left leg to regain my natural walking gait. I felt tremendously close to my dad during this time using his cane.  Each step I took to regain my natural walk and balance, it was as if Dad was with me. Just like when I was taking my first steps and he encouraged, balanced and guided me. He was with me now. My parents told me that I learned to walk at nine months and after I did – I ran everywhere. Mother could barely keep up with me.
Now I was resting my hand on the same silver handle that my dad us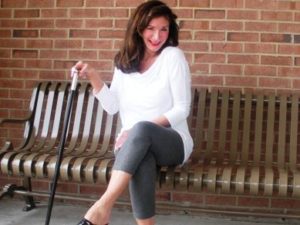 ed for years. After two days, I was walking more naturally and in a week, I could walk without the cane. I used it a week longer just to feel my daddy close to me for comfort and moral support. Dad used to tell me he loved to watch me walk and to move. I have a fast gait and he told me that he loved the energy of my fast-paced movements.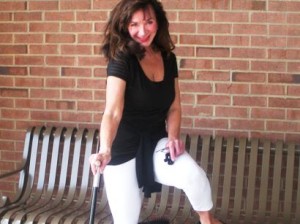 I was blessed to be born with my Dad's will of iron – to keep on keeping on. By breaking against his internal strength all my life, I triggered my own. It's one of my greatest gifts from him.
Mom used to say, "You and your father are just alike – both have heads as thick as a brick wall, stubborn as can be." When Mom would say this, it was usually when she was irritated at one or the both of us. Dad and I would look at each other shrug and smile.  Dad and I are/were a lot alike and our hard heads could butt in real style. But actually that stubborn-will served/serves us well at times.
During this time of recovery, I decided to venture further into town to run an errand. I had spent two weeks almost completely in bed and without driving. Only recently, I started driving myself to rehab and doing errands but only in my area and was now ready to get back into the world. I knew that I needed to push myself so as to not become fearful and isolated. So I forced myself to step further out. With my dad's cane in tow, off I go. As I near my destination, I hear a big pop and the tire light comes on in my car. I slowly enter the parking lot and park in front of where I was heading. Get out and realize that both tires on the driver's side of my car are blown out. The tires were fairly new. Clearly, I must have run over something. Here I am using a cane, it's hot outside and I am a far distance away from my house for the first time in almost a month. I momentarily fill up with fear and stress.  Then settle my mind and call a tow truck which arrives in record time after I explain my circumstances. The man driving the tow truck was as kind a man as there could be. Here I am with sling on an arm and using a cane, barely able to lift my left leg climbing into the cab of a tow truck. The man stood behind me guarding me as I did. Whi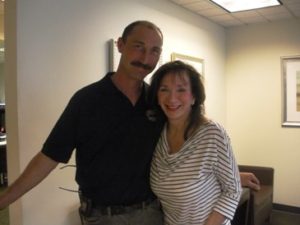 le, we ride to the car dealership with my car in tow, we chat and I share with him my ordeal of the past month. He listens with understanding and says, "Just have trust in God." I replied, "That's what I am doing."  Then we both burst out into laughter concerning the ridiculousness of it all. He tells me to keep my smile and to keep laughing.
My new tires were put on and I was home in record time. But why did this happen at just this time, one thing after another putting more stress and challenge on me? Was it to further expand me?  All you can do after dealing with the issues at hand – is to trust in a positive outcome, laugh in amusement and let it go. What's that saying? 'If you find yourself walking in Hell just keep on walking'. That is what I did. With each issue I dealt with, God had my back. As fast as it fell apart, it came back together with adventure, magic and more awareness along the way. Kind people were put on my path to assist me – complete strangers with like heart and belief.
As I continued dealing with rehab and this whole ordeal, I could hear Dad's words in my mind's eye as I pushed, faltered, got frustrated, scared then kept on… "Keep at it Tiger! You can do it. I am here with you. I am proud of you."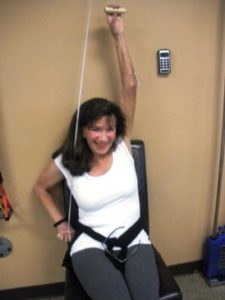 Dad had been a wounded warrior and my accident and what it took to recover gave me a new appreciation for what it is to deal with and recover from physical trauma.  Dealing with this just one year after his death, was a lot to process on the physical, emotional and mental levels. But the strength that I had honed from my lessons in life got me through it.  In the exact moment, I replaced my crutches with his cane. I promised Dad that with the help of his cane, his eyes watching over me and the energy and grace of God that I would regain the walk that I was born with and he loved to watch. I fully recovered in record time and in my doctor's amazement with no lingering effects from my injuries. None! I am physically fully restored.
To add to this time of trauma – dark night of the soul – testing of my spirit – just six months after I had fully healed from the fall and was beginning to feel relief – I went to my dermatologist for my yearly examination. To discover I had a place on my forehead that was cancerous. This place was above my right eyebrow. My dermatologist sent me to a MOHS surgeon to have it examined. Because of where it was, they scheduled me with a plastic surgeon to close the opening after the surgery. I was in full panic mode before the surgery. I had no idea how deep the cancer was or how intensive the damage would be to my forehead.
In two years, my dad had died, I was still dealing with the emotional effects of this, my sisters were repeatedly suing me, I had fallen, recovered and was in the middle of suing the restaurant where I fell. And now, I was looking at having my forehead possibly disfigured.   My father was gone -the only one on earth I had to turn to for strength. My physical abilities had been threatened and I was now facing losing my looks. Talk about overwhelming stress upon stress.
I was wired, anxious and I became depressed. I wondered how much I was going to be put through and if it would ever be over. Would I ever feel like me again? Then who was I, anyway?
I prayed and prayed and finally turned it over to God. At times, this was easier to do than at others.
A friend took me to have the MOHS surgery early on a winter morning. They only needed to go in one and half times, so the cancer had not destroyed much. But I still was left with a large hole in my forehead. That afternoon, I went to the su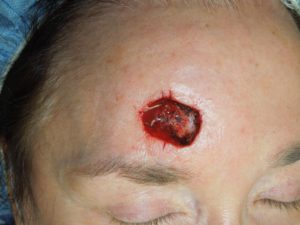 rgery center for a plastic surgeon to close it, to leave the least effect on the appearance of my forehead and face. God lead me to a gifted surgeon.
After the surgery, I felt like I looked like Frankenstein because my forehead was swollen with a red suture line over my right eyebrow. The caring surgeon called me every morning for a week to see how I was doing. He promised that the swelling and the scar line would disappear. I was going to look great again even better. The upside was that the surgery raised my right eyebrow that was lower than the left one and served to tighten my forehead – a light in the darkness.
After a few weeks, it did look much better. In months, it was barely noticeable. Today the scar line is barely, if at all visible. I don't even need to put makeup on it, to cover it up.
Everything I had broken against as a child, young adult and throughout my life had prepared me for this sequence of events of my dark night of the soul without my father here on earth to sustain me. I had almost lost everything several times in my life, but never like this. Nothing had ever felt this alone and low. In this timeframe, I remembered back to when angels had walked though me. I asked and prayed that they please do it again. But they didn't. I heard in my mind's eye, 'You know we are with you and you will be fine'.  Therefore, I focused on recalling that feeling of love that had once filled me up in comfort and grace as I pulled God, my mother and my father close to me every night. As I lay alone in my bed, I could smell the fresh fragrance of my mother and heard my father's words, "You can do it, Tiger! I am with you all the way."
Things can appear horrible and like everything including your life is falling apart, right before more awareness is recognized. I learned how strong and resilient I am. I felt, knew and renewed my faith and strength in God. I realized the hate that my sisters have for me, so I cut them completely out of my life which I should have done a long time before.  Doing so, has freed my spirit in ways that is incredible. I feel younger now, than I even did when I was a child living in my parent's home with the burdens of my mother, my sisters and my father weighting me down with their imprints. I have awareness, understand, accept and forgive them all. I let them go.
I choose only to keep the love of my mother and dad as comfort to guide me in the rest of my life's journey. Of course, I do have happy family memories that I enjoy at times.
Embrace challenges in life as opportunities for self-reflection and transformation.
"You have power over your mind, not outside events. Realize this and you will find strength." Marcus Aurelius