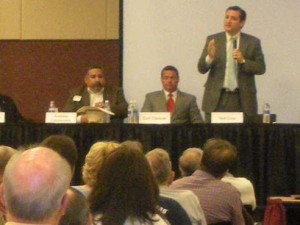 (Ted Cruz when he was campaigning for Senator at a Tea Party event,) I've heard so much about these terrorists that I wanted to see it first hand. I don't designate myself as a 'tea party person', but I agree with what they say and want.
So, I attended the Tour of Texas Senatorial Forum in Plano hosted by the Texas Tea Party Alliance.
All declared candidates for the Texas 2012 Senate race were invited and are: Glenn Addison (R) – Andrew Castanuela (R) – Curt Cleaver (R) – David Dewhurst (R) – Sean Hubbard (D) – Elizabeth Ames Jones (R) – Tom Leppert (R) – Lela Pittenger (R) – Ric Sanchez (D) – Ted Cruz (R)… all were present except, the Democrats and David Dewhurst.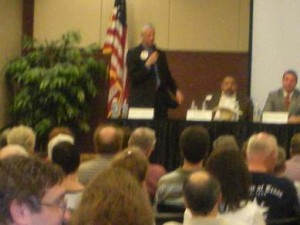 I found this to be a kind and inspirational gathering… full of American principles and it was clear the like-mindedness of the group.
With my hand placed over my heart, singing the National Anthem, not only was my heart filled with pride, but my eyes filled with tears. The energy was full of wholesome American values. It was refreshing and felt like the real America, instead, of the bizarre, socialist nightmare that Obama and his ilk are trying to advocate and create.

The New Revolution Now Institute, Inc. www.NewRevolutionNow.org – advocates for founding American principles: 1. Free Markets 2. Limited Government 3. Personal Responsibility 4. Constitutional Constructionism
5. A Virtuous America 6. Strong National Defense.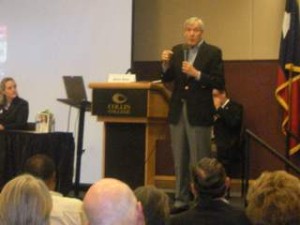 Mission statement: Enlighten the electorate to the US and state constitutions, founding conservative values and self-evident truths.
Empower "We the People" to defend and preserve liberty and hold government officials accountable. Engage the public through political and civic action to restore government to its original intent.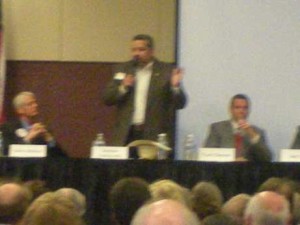 While all the candidates who spoke are champions for these principles, I found Tom Leppert to not answer questions directly and to appear more a 'career politician' than the others.
At this event, in my opinion, Ted Cruz, Curt Cleaver and Andrew Castanuela stood out… but all those participating were inspirational, full of American values and filled with the 'hope' that the 'change' that Obama has forced upon us will be repelled and repealed. All candidates announced their intentions to repeal Obamacare…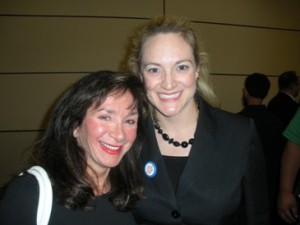 My pick at this event was Lela Pittenger. She is thirty-two years old, a strong speaker with sound values and would make an inspirational and energetic Senator. She is a strong voice for the youth, who, perhaps, don't yet realize that their freedoms are being taken away daily by the current administration and its socialist agenda.
The Tea Party that I observed was kind, gracious, organized, and standing for American values and principles. I say the TEA PARTY ROCKS SOLID!!!  Anyone who deems these wonderful people as terrorists are twisted in their brains… as in Democrats, Liberals, Progressives and the Main Stream 'Corrupted' Media.

"The citizens of the U.S. are responsible for the greatest trust ever confided to a political society." – James Madison
I pledge allegiance to the flag of the United States of America, and to the republic for which it stands, one nation under God, indivisible, with liberty, and justice for all.
God Bless and Protect America!