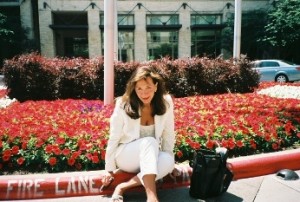 I am content with who I am, what I have, and the life that I have been given with all the experiences in it. I am an individual created from my environment, genetics and blood lineage from ancestors.
And ladies and gentlemen, I have been through one heck of alot… and only by and with the grace of God landed on my feet and smiling…
I have been so low that I thought I would not survive. My second husband whom I loved dearly was an alcoholic.
When we met, he was an executive with an oil company in the eighties. Then oil crashed, he pared down and got into real-estate, but it was a rough emotional ride. His partner in the oil business committed suicide. While we were dating, I got pregnant and had an abortion (the most difficult and wrong decision of my life) About Abortion…
We sailed at the lake, partied and had a great time while dating. I was building my interior design business. But after we married and life 'became real' … his drinking became too much for me to handle. He would lose his car, sleep in his office, and once, when I was helping one of my designers write up an order, while sitting at our dining room table, out of the corner of my eye, I saw my drunk husband wearing his business suit, crawling down the entry hall towards us. It was continual drama and chaos with this man and I detested it.
He promised to stop drinking, tried, failed, then tried again. Finally, I could not handle it any longer and I kicked him out of the house by court order.
Doing this broke my heart … I cried, cried and cried.(think Diane Keaton in 'Something's Gotta Give', but about 10 times more) I sat on the floor of his closet with his perfectly lined up suits, just so many inches apart (Mr. GQ was emphatic they be such) and whaled in my suffering (but even in my intense pain, I had the awarness that I was fortunate to be able to feel and to love so deeply).
I filed for divorce and during this time discovered that I needed emergency surgery to have an ovary removed. I was frightened into the core of my being and wondered if this was punishment for my having an abortion. I did want to have children and….
What should have been a relatively uneventful operation turned into a nightmare. The physician cut an artery and I lost a very large amount of blood. I had not signed a release to be given blood because it was during the time that AIDS was being discovered in the blood reserves. And the doctor told me that I didn't need to ask my family to donate blood because the operation would not call for it. But it did.
During my recovery, I was so weak that I could barely walk across a room. I was used to being a fit as a fiddle ballet dancer and instructor. And now, I went out for an ice cream cone, it exhausted me. I was weak, going through a divorce and so alone… so alone….so, so, so alone.
During this time, one night, I was lying in bed, feeling as down as I have ever felt in my life, weak, like a failure, too tired to work, looking liked death, thin, pale weak and felt worse than I looked, broken-hearted, aching and wondering what was to become of me.
I don't recall, if I was reading the Bible, or had it on the bed near me. But resting back on pillows filled with intense pain, I felt a cool breeze blow directly and purposefully through the middle of my chest near my heart. At the same time, I felt love fill me up in such comfort that I can't put it into words, I jumped up and searched to find where this cool breeze came from…no windows were open and there was no source that could have created this.
I rested back into bed, but felt differently. I felt relieved, comforted, and my energy for life was re-emerging, as much as I was perplexed concerning what had occurred. I had an innate knowing that it was a message from God, my angels, guides, someone of comfort to let me know that all will be okay.
I picked up my Bible and it opened to Psalm 27… The Lord is my light and my salvation; whom shall I fear? … While I read the passage, the knowing of what occurred became anchored solidly into me. It continued to sustain me through my time of healing and even to this day, I have the imprint of this memory as a comfort.. as a sure knowing that I am not alone.

I have written two books. This is a small piece in the story of the second one. The first one I am readying and will be sharing excerpts with you soon….
Some people, these days,seem to want to be someone else. They are envious of the life they 'think' others live, instead of being who they are. But no one really knows what goes on in the lives of others no matter how it may appear on the outside.
Your life is yours, an expression of all that you are and will become. It is what makes you individual unto yourself. All that you experience is for the growth and healing of your soul. Be not envious of others. Be glad of who and what God has blessed you with to experience. None of us are the same… we are all unique individuals…and each life has its unique path with blessings, trials and challenges…
(My ex-husband, sobered up, is sober to this day. and we remain friends. He told me that my decision to throw him out, was the wall that slammed him into himself.)