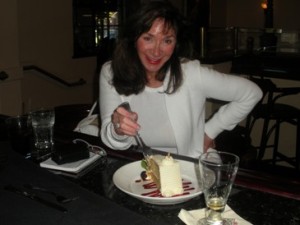 My grandmother lived to age 97 on scotch, shrimp, cigarettes and iced coffee – rarely drinking water, except as a splash in her scotch. She joked that water would rust her pipes. Her aerobics were a bridge game twice a week and tending her roses. Occasionally, she flexed her gossip muscles, and she was always thin with a zest for life. The only time that she fainted was in the '50's when she went on the new-fangled, 'expert suggested', vegetarian diet to lose a few. Other than that she was healthy until the day she died.
One summer holiday, she panicked noticing her grandchildren were eating watermelon and ice cream together. She warned that this combination could make us lose our minds because years ago a friend of hers had gone crazy after eating this mix and had to be put into an asylum. Hearing this story, our childish giggles rang out. But even as we laughed, we also worried that it might be true.
In my early teens, being a ballet dancer, my physical reflection in the classroom mirror became a constant critical adversary. Thin at 5'3" and 90 pounds, every meal was magnified in the mirror of my distorted body image. So, I starved myself, going days without food, until so overcome with cravings for grease and fat. I'd succumb to double orders of fries or a bag of Fritos dipped in peanut butter. This bizarre eating ritual kept my frame fragilely thin, but over time my energy to dance was diminished. My usually glowing skin became sallow and I was irritable most all the time.
Driven by a quest for solution and innate curiosity, while not only wanting to be thin, but healthy and energetic, I scoured through books and women's magazines about everything concerning health, diet and nutrition. There wasn't as much written on those subjects in those days.
So on my own, I tried different combinations of foods, using my body as an experimental lab. I found that if I ate only protein, the weight would drop off, but leave me with less energy. Eating mostly carbohydrates, my body stayed trim except a bit puffy, but I had more energy. After trial and error, I found my best fuel was a bit of everything with focus on lean meats, vegetables, and fruits, limiting sugar and flour with intake to match my energy out go, pretty much the same diet that my mother offered up.
Each one of us has varying needs and body chemistry. A vegetarian diet might work for one, but can be disastrous for another. And it's possible that certain combinations of food or supplements may create the atmosphere for predisposed individuals to become allergic, physically ill, or even go "crazy." That lady friend of my grandmother's combining watermelon and ice cream in one afternoon could very well have triggered a unique chemical reaction in her body that affected her mind. Enough so, that her behavior was attributed to this mix which shows that our perceptions concerning food can lead to all sorts of results and misconceptions about what we should or should not eat and in what combinations.
Our current information has become more in-depth and sophisticated or has it? Should we eat 'expert-suggested' amounts and combinations? Eat carbs or not? Restrict meat consumption or have more? Dairy is good or dairy is bad? Keep a daily journal about what we consume or don't think about it at all? Count calories or cholesterol levels? Eat more complex sugars or less? Eat only raw food or cook our food thoroughly? Eat real butter or fake? Eat real sugar instead of chemical based substitutes? Take vitamins, mineral or herbal supplements, or rely that what's needed will be supplied by eating a variety of foods? Follow the USDA's Food Guide Pyramid or eat a triangle of pizza? Drink wine occasionally, and is it red or white that's best, or abstain all together? Take a mysterious little pill that 'magically' releases fat from our systems even though a great deal of time will be spent in restrooms? Or eat anything desired and workout 24 hours a day?
Is it about what we eat or about what's eating us? Eat a little, eat a lot, eat many small meals a day or three squares, eat certain combinations, but watch out for others lest we ' lose our mixed-up' minds a bit more about what to eat? Or should we forget about it all and sit down with a big bag of chips and beer, as it's all so conflicting, confusing and changing?
How about "Moderation in all things." Publius Terentius Afer, 190 BC – a recommendation that's been around for quite awhile. OR is Oscar Wilde's suggestion best, "Moderation is a fatal thing, nothing succeeds like excess"?
Who really knows for sure, but anyone for some watermelon and ice cream?