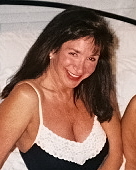 romantic creature. I am a woman… 
I am soft, alluring on the outside, but strong and resilient on the inside just enough to be able to protect myself.
A woman's body is softness and curves… she is about feelings, emotions, nurturing, caring and love…
Show a feminine magnificence the highest of your manly traits and she 'might' bestow her feminine gifts on you…
A woman needs a man to be a man and that is strong on the outside with just enough softness on the inside to know compassion, caring and love.
"I am intrigued by glamorous women . . . A vain woman is continually taking out a compact to repair her makeup. A glamorous woman knows she doesn't need to." Clark Gable

Hey! And by Gable's quote, I am glamorous, too. I don't wear face make-up, so certainly don't need a compact. Ha!

I am a woman… a glorious woman! And I am capable of an intimate, passionate relationship… Are you?
Abusive men, Muslim men and other oppressive, insecure, immature, hateful and so disposed characters… don't know what they are missing until and unless they learn how to treat a real w-o-m-a-n… I'll say it again… Woman!

Look to the left and click to follow and to subscribe…