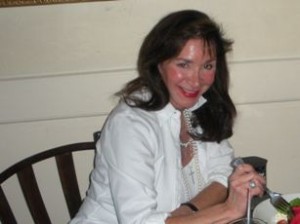 Do they have manners and know the appropriate etiquette? Do they shovel the food in like they haven't eaten in days?  Do they chew with their mouth open? Do they serve themselves first, begin eating and not wait for you?
Are they overly picky?  Are they sloppy? Do they savor each bite and enjoy? Or do they shove the food in barely tasting it?…
Ever had a man order before the woman? I had this happen once and I left the table not to return…
There is a time to eat mannerly and a time to pick it up with fingers… do they know the difference?
There are correlations between how a person eats and how they do other things in their life such as making love. Eating habits and manners reflect not only up bringing, class, education, self-awareness, awareness of others and HA!…whether you can take someone to a black tie dinner.
Many times, eating precedes sex.. and is a way to seduce and create romance… but not with a person who has bad eating manners…or a person who stuffs themselves then lays on the sofa in a coma.
I dated a man once and eating with him was a painful experience. He would shovel the food in quickly. And rip it a part, as in onion rings, so he could shovel it in faster… He would touch my food. He had no idea how to serve. He would nod his head and grunt, make noises as in 'good food'. He was more interested in how much he was getting into his mouth than the quality of it… which is the opposite of me.  Meal time wasn't a time to communicate, it was to eat. He wanted to get his food into his mouth and fast, so he could get some more. When I think back, he was a poor communicator and he was unsophisticated and inexperienced in his selections of food and restaurants…just plain all around boring…
Watching him eat turned me off so much that I would look away and was even embarrassed to be in a restaurant with him. I was invited to a party during the time I knew him, and chose not to go, if I was to go with him. Of course, I quickly stopped seeing this man as his eating habits reflected in other areas in his life. He was disgusting. My main memory of him is the vision of him eating and it repulses me…and I avoid the restaurants where the memories of this slob pop into my head.
In my worthy relationships, eating is fun, sensuous, a time to be together, cook together, wine and dine together… to create wonderful memories…I enjoy a man who knows how to wine and dine and I love to cook for the 'right' man…and enjoy having him cook for me.
Food, eating and its preparation can be fun, sensual and sexy….Manners or not while eating reveal much. Do you agree?
What have your experiences been in this area?