Grow the Government! So, that the people are working to support the government more than themselves! Is this what you want?
Do you want the government telling you what to do? Do you want to send your money to the government first, then whatever is left over, if anything, is yours? Then the government tells you how to live your life while they spend your money on what they want to and give it to whom that want, regardless of what you want. All your rights are gone. Your choices are not your own. You and what you have are owned by the government.
Pelosi flies around in an expensive jet, stimulus money went to her family's business, and now, she is throwing a party for herself. Well, why wouldn't she? She has accomplished what she wants.
Bigger government and to take all she can from the people and Pelosi lives the life of Queen.
Obama is taking a trip on our dime. Just after the American people strongly told him that we don't like what he is doing to our country. He leaves the country.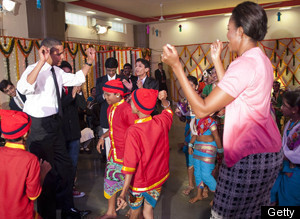 Obama is not about America. He is about the world. From everything,t he and Pelosi have done, they are out to destroy America and indebt her people to a bloated inefficient government while giving themselves power and wealth. Then they want to share the American people's abundance with the world, in order, to lower the standard of living for our country. I don't know who these Obama people are, but they are not Americans.
George Soro's backs all this. He pulls the strings to try and take America down. He is an atheist who thinks that he is god. It's as if he is playing monopoly. He is having fun! He brings down currencies and now he has set his sights on America. He brought the bank of England down and three other currencies. And doing this makes him weathier and wealthier. The Clintons stayed with Soro's daughter during the wedding of their daughter. They are all in it together. They are trying to destroy our Consitution and take away American rights to mesh us into their New World Order. And they twist and turn their words, 'Leviathan-like' to try and 'appear' that they are good. Leviathan
But it is of pure evil. It is to rule, dominate and control the people for their purposes. And it is done under the guise of 'good' behind which is the evil of their control, in, and of, everything that they touch. And they are fooling the blind, deaf and ignorant into doing the dirty ground work for them. These people think, hav been brain-washed to think that they will be rewarded. When evil has no allegiance to anyone. It loves to destroy its own, evil falling in on evil is the height of their goal.
They control the media. Just look at the main stream media, they have become propaganda machines. There is no real reporting, or journalism. It's all propaganda.
Look at Oprah.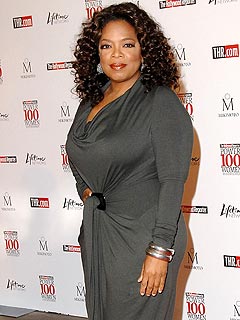 She tries to get every new story to claim the audience for ratings and to widen her sphere of influence. Oprah is Obama's backer. Obama is Oprah's pet. They both attended the America hating church of Rev. Wright. She started out a fat black woman and after all her diets and diet promotion and money gleaned off the masses, she is still a fat black woman.
Her wisdom and choice of diets are as bad as her choice for president. Is this a woman to listen to or follow? NO! She is an opportunist. A narcissist that wants to influence and to glean a following to satisfy her power and her greed.
These are not good people. Even though, at times, they appear to do good things. Some good must be done, in order for the facade to take hold.
Then we have The View,
one of the most pathetic shows on the air, besides the 'housewives of whatever town'. These women push their agenda and try to shut up and villify anyone that disagrees with them. Now, if everyone is due their view, why is that? Might these greedy, loud and obnoxious women be catering to the backers of their station? It's all about agenda…theirs not yours. Barbara Walter's father had mafia connections and she is tight with Kissinger and those out to take over our world.. listen through their agenda… these people are out for themselves not their viewers. They only want you for ratings and to further their agenda and that of their backers.
My suggestion is to stop watching these vile, predator-like, pandering shows.
Talk shows need to stick to Hollywood stupidity, or whatever the dumbed-down enjoy and stop trying to pretend that they are anything more…
The government needs to be shrink, starting with Pelosi and her wild congressional spending spree. Those in the government need to earn less than the people in the private sector and not reap large rewards from working in the government. Working for the people is reward enough. They need to limit their time of service. No one should be a 'career' goverment lifer.
The people in the private sector need to keep more of their money and be in charge of how it is spent and to whom it is given and who they leave it to when they die. The Government needs to BUTT out of our lives!
Obama needs to be thoroughly investigated. Pelosi needs to be removed from government. Obama needs to be impeached for treason to America. Soros needs to be shut up and kept away from and out of America! And tried for crimes against humanity.
Boehner has already stated that he will take commercial jets to get back and forth. A responsible government CUTS spending and SERVES the people, instead of spending wildly and living like dictators or kings.


The Obama's remind me of the Dictatorship of Peron! Under the guise of 'doing good', they stole, robbed and raped the Argentine people while living high on the hog.
If our government doesn't stop spending, the American people will be subservent to the government and will be living and serving the benefit of the bloated, wasteful government and that is what those like Soros want. These people see the masses as commodity just like the talk shows do. They have power to influence and the people have none.
Take back your power!
Obama states repeatedly from his agenda-filled lying mouth that he only needs to convince the people that he is right. Yeah right! We tell him we don't want something and he just thinks that he needs to state is differently. Brainwash us!
Don't listen to the liberal, greedy lying, talk shows that are getting rich off of your viewing them. Oprah is getting her own network to further influence her 'followers'. What fools need to follow this woman and her hidden agenda.
Think for yourself… listen then discern… Look at motives.. see beyond the hype.. see behind the curtain..


SHRINK THE GOVERNMENT! WE HAVE NO NEED FOR WHAT THEY ARE DOING! AS IT IS ONLY TO BENEFIT THEM AND NOT YOU!